All the Offers at Hotel Luxor
There is no offer currently available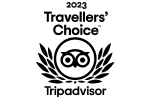 Reviewed 25 september 2017
When vegan it means joy – friendliness – well-being and carefree.
After 3 years I attended this hotel and here I am making a review. What to say, in an unbalanced world and sometimes takes an incorrect direction for faults of unhealthy choices, sometimes you are catapulted into a reality 'a little utopian (I honestly did not believe it could exist!). A world where the raw material, good food and above all the guest is carried on the palm of the hand and nowadays it is very difficult to find !!! The tears for the emotions experienced while eating the dishes are the order of the day and it is customary to pull pinches to understand if you are dreaming. what can I say, I will not dwell longer, but I wish with all my heart that more and more people can experience this outbreak of civilization, joy, lightheartedness and serenity. A huge embrace MARCELLO - ELISA
Reviewed 1 september 2017
In family but with taste
The Bianchi family has always welcomed us lovingly and with their cuisine we are pampered in every sense. Excellent vegan cuisine and friendliness to sell. From appetizer to dessert, a rainbow of flavors.
Reviewed 5 september 2017
Such a lovely hotel – everything was great
We spend our honeymoon at Hotel Luxor Veg and it was a wonderful stay. Family Bianchi and the whole team are absolutly great, warm-hearted and they gave us a totally familiar feeling. We booked full board and the meals on the buffet were always delicious, diverse and prepared with love. As we are vegans, it was great to have such a big choice at the meals. And they are really strict in separating the vegan and unvegan food in their kitchen which is very important for us – in fact they are cooking the vegan and unvegan meals in separate kitchens. Also our room was great. We booked the suite with private roof terrace and full panoramic view of the sea (the beach was only 100 m away). The bathroom was really large and the shower a dream. There is also an open roof-terrace for all the guests with sofa, sunbed and a hometrainer fitnessbike and also with this great seaview. Also the beach and its beach-bar are cool. We recommend to book the sunbed+sunshade directly when you book the rooms, so that you can choose a sunbed in one of the first rows. In sum – we would spend our holidays and especially our honeymoon again at Hotel Luxor and we already miss Family Bianchi and the team. A huge and heartful thanks for these great days!